In the context of P.O.S.T.'s Executive Board's decisions, in order to inform every sector in Greece, as well as the International Postal Organizations, over our struggle against the plans of Post's privatization, our Federation was represented in the Norwegian Postmen's Congress by the Secretary of International Relations, Mr. Antonis Klironomakis.

During the Congress, we were given the opportunity to highlight the problem of the Hellenic Post, as it was formed after the Government's decision for its privatization.

In the main time, we asked the European and American Trade Unions to support our fight against the Post's selling out.

All the delegates expressed their solidarity and showed their will for a COMMON FIGHT against the policies of disposal of the public property.

These positions were expressed with interviews-by our Secretary of International Relations- in the printed press as well as in the electronic media of Norway.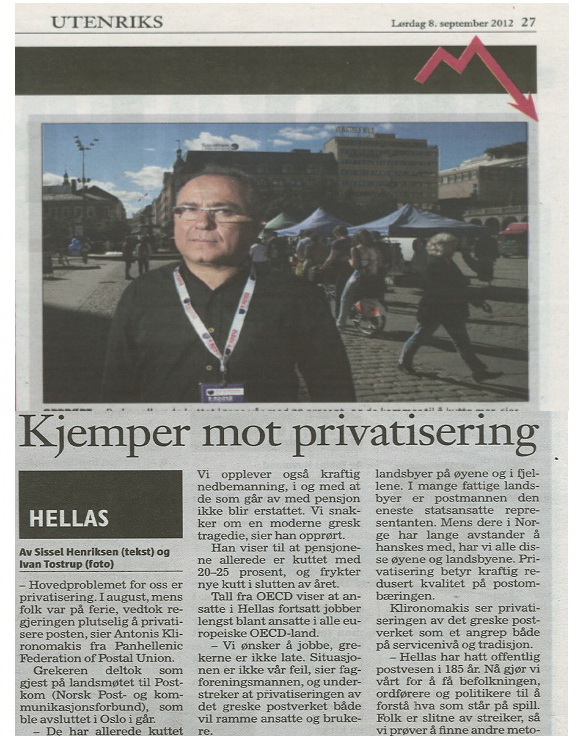 The interview is as follows:

The main problem for us is privatization. In August, while people were on holiday, the Government suddenly decided to privatize the post, said Antonis Klironomakis from the Panhellenic Federation of Postal Associations. He participated as guest in the Postkom Congress, which was concluded in Oslo yesterday.

They have already cut our wages by 35 percent, and they are going to cut more. We are also experiencing severe job cuts, in that those who are retiring are not being replaced. We are talking about a modern Greek tragedy, he said upset. He points out that pensions are already cut by 20-25 percent, and fear new cuts at the end of the year. OECD figures show that employees in Greece still work the longest among employees in all European OECD countries.

We want to work, the Greeks are not lazy. The situation is not our fault, says the Union representative, and stressed that the privatization of the Greek postal system will affect both employees and users.

Greece has 225 islands and countless remote villages on the islands and in the mountains. In many poor villages, the postman is the only state employee representative. While you in Norway have long distances to cope with, we have all these islands and villages. Privatization means greatly reduced quality of mail delivery. Mr. Klironomakis sees privatization of the Greek postal system as an attack on both the service and tradition.

Greece has had public postal service for 185 years. Now we do our best to get the people, our mayors and politicians to understand what is at stake. People are tired of strikes, so we try to find other ways to succeed with our requirements.